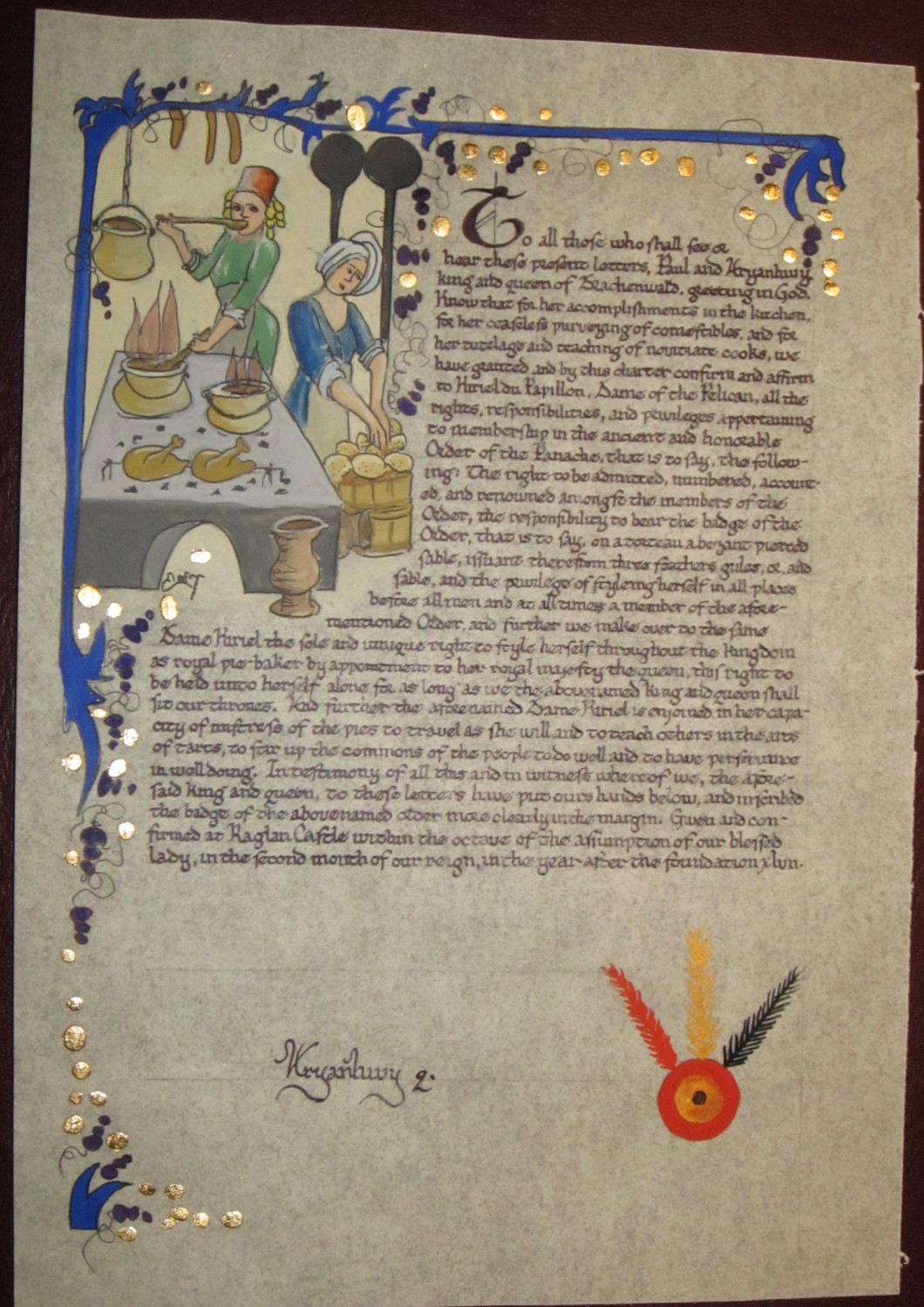 Unfortunately, I couldn't get a very good photo of it, and I didn't finish it in time to take it out to the office and scan it. The blank was done by Lovisa af Talkotten. The text was written on August 4, based slightly on the confirmation of lands and arms to Walter Haywode. The calligraphy was done August 5; the panache badge was painted August 13.
The text reads:
To all those who shall see or hear these present letters, Paul and Aryanhwy, King and Queen of Drachenwald, greeting in God. Know ye that for her accomplishments in the kitchen, for her ceaseless purveying of comestibles, and for her tutelage and teaching of novitiate cooks, we have granted and by this charter confirm and affirm to Kiriel du Papillon, Dame of the Pelican, all the rights, responsibilities, and privileges appertaining to membership in the ancient and honorable Order of the Panache, that is to say, the following: The right to be admitted, numbered, accounted, and renowned amongst the members of the Order, the responsibility to bear the badge of the Order, that is to say, on a torteau a bezant pierced sable, issuant therefrom three feathers gules, or, and sable, the privilege of styling herself in all places before all men and at all times a member of the aforementioned Order, and further we make over to the same Dame Kiriel the sole and unique right to style herself throughout the kingdom as royal pie-baker by appointment to Her Royal Majesty the Queen, this right to be held unto herself for as long as we the abovenamed king and queen shall sit our thrones. And further the aforenamed Dame Kiriel is enjoined in her capacity as mistress of the pies to travel as she will and to teach others in the art of tarts, to stir up the commons of the people to do well and to have perseverance in well doing. In testimony of all this and in witness whereof We, the aforesaid King and Queen, to these letters have put our hands below, and inscribed the badge of the abovenamed order more clearly in the margin. Given and confirmed within the octave of the Assumption of Our Blessed Lady, in the second month of our reign.
---
© 2012, Sara L. Uckelman.