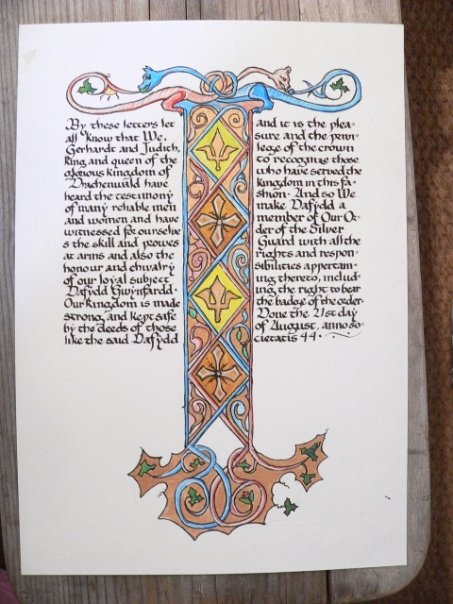 The illumination was done by Amal binti Hamid. The text reads:
By these letters let all know that We, Gerhardt and Judith, king and queen of the glorious kingdom of Drachenwald had heard the testimony of many reliable men and women and have witnessed for ourselves the skill and prowess at arms and also the honour and chivalry of our loyal subject Dafydd Gwynfardd. Our kingdom is made strong and kept safe by these deeds ofthose like the said Dafydd and it is the pleasure and the privilege of the crown to reocgnize those who have served the kingdom in this fashion. And so we make Dafydd a member of our Order of the Silver Guard, with all the rights and responsibilities appertaining thereto, including the right to bear the badge of the order. Done the 21st day of August, anno societatis 44.
---
© 2009, Sara L. Uckelman.