Panache for Åsa Vävare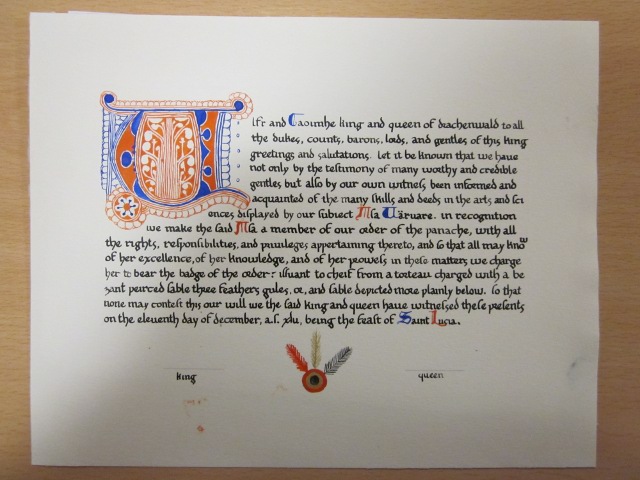 The text reads:
Ulfr and Caoimhe, king and queen of drachenwald, to all the dukes, counts, barons, lords, and gentles of this kingdom, greetings and salutations. Let it be known that we have not only by the testimony of many worthy and credible gentles but also by our own witness been informed and acquainted of the many skills and deeds in the arts and sciences displayed by our subject Åsa Vävare. In recognition we make the said Åsa a member of our Order of the Panache, with all the rights, responsibilities, and privileges appertaining thereto, and so that all may know of her excellence, of her knowledge, and of her prowess in these matters we charge her to bear the badge of the order, issuant to chief from a torteau charged with a bezant pierced sable three feathers gules, Or, and sable, depicted more plainly below. So that none may contest this our will we the said king and queen have witnessed these presents on the 11th day of December, a.s. xlv, being the Feast of Saint Lucia.
The initial was illuminated by Lord Arnaut de Najac at Kingdom University. The calligraphy was done Nov. 18 and 19, and I painted in the badge on Nov. 19.
---
© 2010, Sara L. Uckelman.