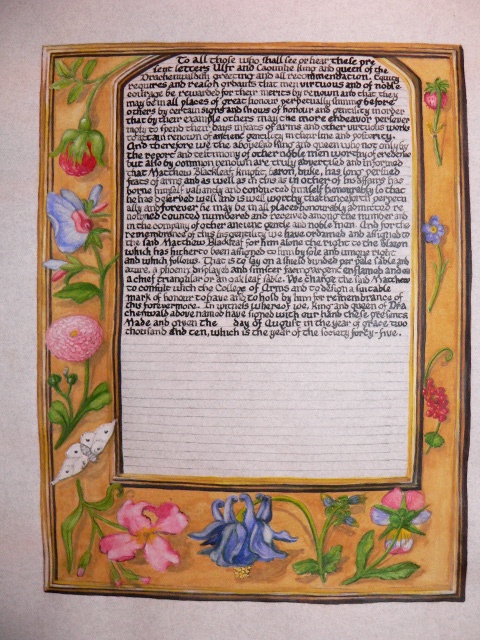 The illumination was done by Agatha of Norwich.
The text reads:
To all those who shall see or hear these present letters Ulfr and Caoimhe King and Queen of the Drachenwaldish greeting and all recommendation. Equity requires and reason ordains that men virtuous and of noble courage be rewarded for their merits by renown and that they may be in all places of great honour perpetually shining before others by certain signs and shows of honour and gentility in order that by their example others may the more endeavour perseveringly to spend their days in feats of arms and other virtuous works to attain renown of ancient gentility in their line and posterity. And therefore We abovesaid King and Queen who not only by common renown but also by the report and testimony of other noble men worthy of credence am truly advertised and informed that Matthew Blackleaf, Baron, Knight, Duke, has long persued feats of arms and as well in this as in other his affairs has borne himself valiantly and conducted himself honourably so that he has deserved well and is well worthy that henceforth perpetually and for ever he may be in all places honourably admitted renowned counted numbered and received among the number and in the company of other ancient gentle and noble men. And for the remembrance of this his gentility we have ordained and assigned to the said Matthew Blackleaf for him the right to augment the blazon which follows. That is to say a shield divided per pale sable and azure, a phoenix displayed and sinister facing argent enflamed and on a chief triangular Or an oak leaf sable. We charge him to consult with the College of Arms and to design a suitable mark of honor to have and to hold for him for evermore. In witness whereof We King and Queen of Drachenwald above named have signed with our hand these presents. Made and given the XXXXXXX day of August in the year of grace two thousand and ten, which is the year of the society forty-five.
The lines are 1/4".
---
© 2010, Sara L. Uckelman.