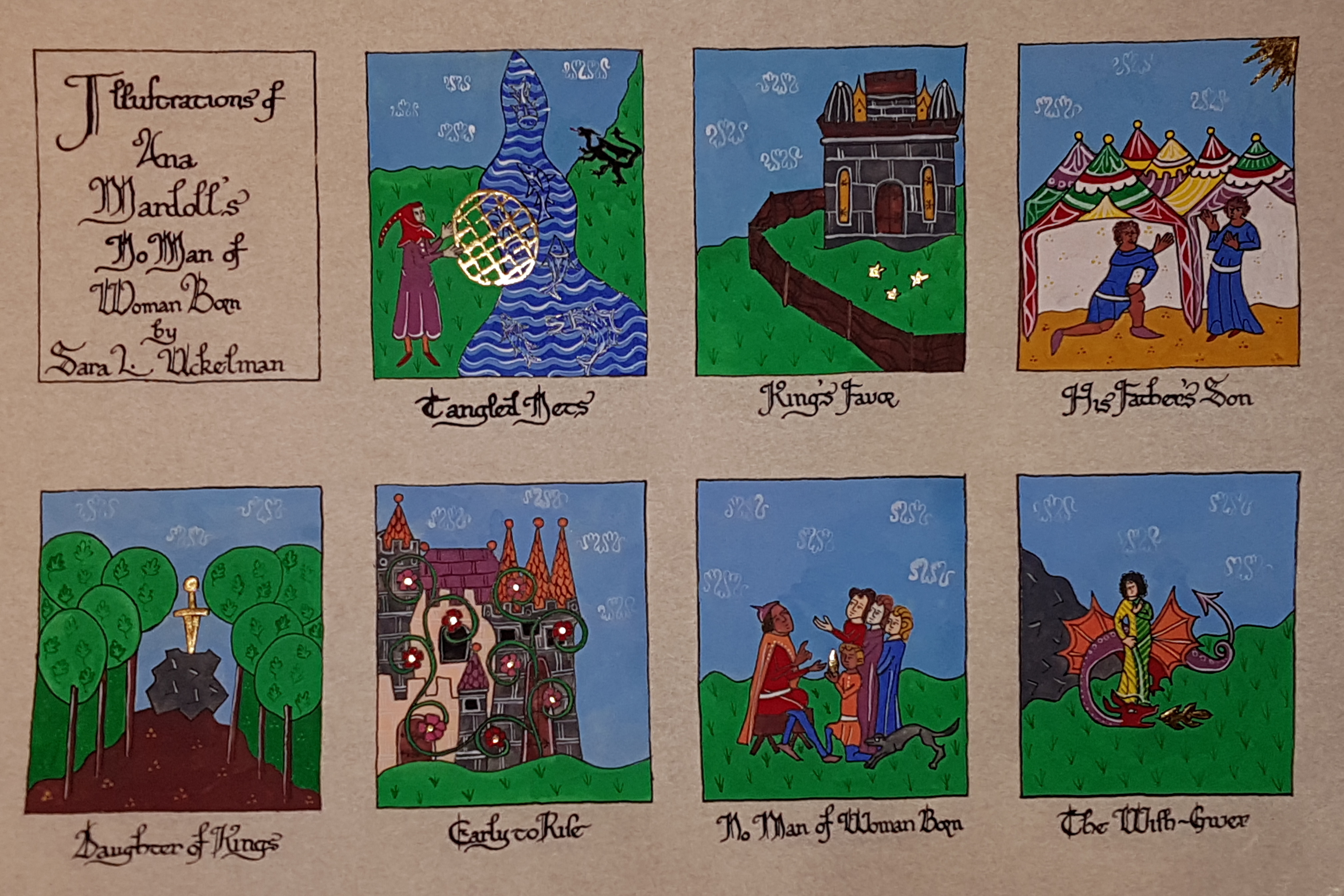 I recently read and reviewed a collection of short stories by Ana Mardoll, No Man of Woman Born. They were excellent; my only two complaints were there weren't enough (over way too soon!) and there weren't any pictures (which would improve the readability of the stories if I wanted to read them to my 6yo daughter). Regarding the former, I hope xie will write more stories, and regarding the former, I figured the thing to do was the illustrate them myself. This is my first attempt at moving beyond strictly medieval imagery, though I couldn't bring myself to go too far!, and my first time not working very closely from exemplars. Nevertheless, many bits and pieces were inspired by various actual manuscripts:
| | |
| --- | --- |
| | The fish in "Tangled Nets" were inspired by the fish in BL MS Additional 30024 f. 64v. Faces are damn hard, and Wren's face is modeled after the faces in the initial in BL MS Egerton 1151 f. 50. |
| | The castle in "King's Favor" is based on the castle Reynard takes refuge in in BL MS Additional 15229 f. 77v. The fence is modeled after a fence I did for another project. |
| | I had so much fun looking up tents for "His Father's Son". In the end, I went with the ones in BL MS Royal 20 D I f. 15v, though the tents I first intended to use were the ones from BL MS Royal 10 E IV. I still cribbed from that MS (f. 239) for the two people. |
| | The design for "Daughter of Kings" was a first for me: Entirely my own. I didn't copy any of it from anywhere. |
| | It was hard to choose a castle for "Early to Rise", but the castle in BL MS Royal 14 E III f. 21 provided an excellent exemplar. |
| | Just as much fun as looking for tents was looking up images of students and teachers for "No Man of Woman Born". I ended up using the ones from BL MS Royal 6 E VI f. 531, with the dog cheekily stolen from BL MS Harley 3745 f. 1. |
| | For "The Wish-Giver" I used my favorite dragon, from BL MS Additional 14761 f. 31v, and then went to BL MS Royal 10 E IV (quickly becoming one of my new favorite MSs) to find a nice figure. The one I used as my exemplar is from f. 102, and alas this was the one that showed up just how hard human figures are (especially hair. Who would've thought hair was so tricky?!) |
I started the project August 19, 2018, and finished it on the 26th. I did one picture per evening (except Saturday). Each painting took about 2 hours from start to finish, including trawling through the manuscripts to find my exemplar images.
---
© 2018, Sara L. Uckelman.