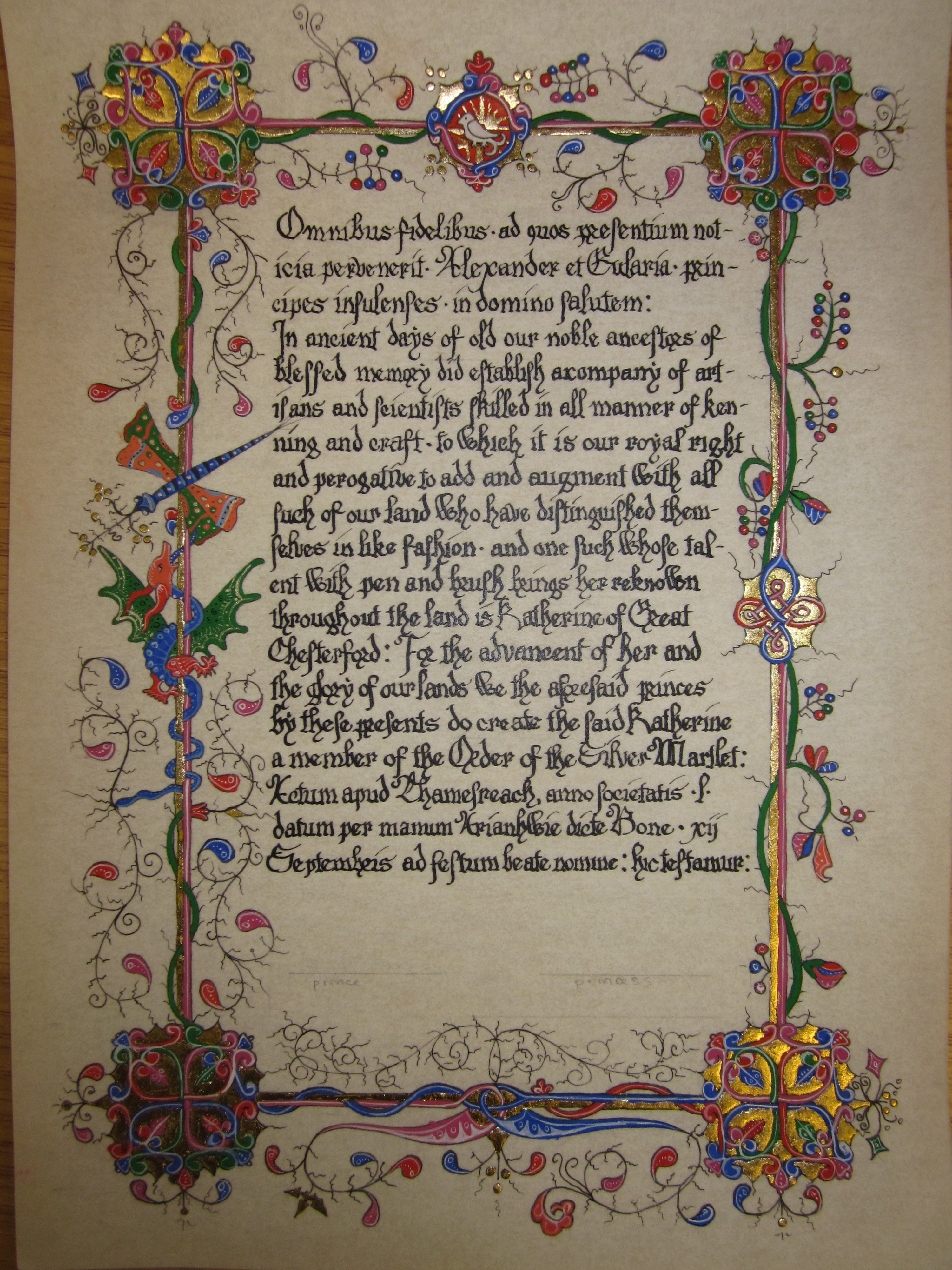 I received the assignment 19 August, and picked out an examplar the same day. Two days later, I changed my mind, having seen a British Library blog post featuring Harley MS 7026, f. 13r with the most fantastic little dragon and dragonfly combination. I knew I had to do it!
The sketching, inking, painting, and gilding took about 15 hours over the course of the next three weeks (slightly hampered by attending a conference during one of them; I brought my paints, brushes, and the scroll along thinking I might work on the white-work, but yeah, that didn't happen. So this left me last night with all the calligraphy and all the gilding (the actual putting down of the gold; I'd put the size on the night before) to do. Two hours for the gilding, two hours for the calligraphy made for a late night, but I'm really pleased with the outcome.
The text reads:
Omnibus fidelibus ad quos presentium noticia pervenerit, Alexander et Eularia, principes Insulsenses, in domino salutem.

In ancient days of old our noble ancestors of blessed memory did establish a company of artisans and scientists skilled in all manner of kenning and craft, to which it is our royal right and prerogative to add and augment with all such of our land who have distinguished themselves in like fashion, and one such whose talents with pen and brush brings her reknown throughout the land is Katherine of Great Chesterford. For the advancement of her and the glory of our lands we the aforesaid princes by these presents to create the said Katherine a member of the Order of the Silver Martlet. Actum apud Thamesreach, anno societatis l, datum per manum Arianhwie dicte Bone, xii Septembris ad festum beate nomine. Hic testamur.
The Latin phrases read in translation: "Alexander and Eularia, Insular princes, to all the faithful whose notice may come to these presents, greetings in the lord" and "Acted at Thamesreach, in the year of the society 50, dated by the hand of Aryanhwy called Good, the 12th of September on the feast of the blessed name. Here we witness.
For the last year or so I have been working extensively with Latin charters, in which I have found it is extremely common for the scribe who wrote the charter to be named explicitly, especially in royal or papal charters. I think this is something that we should actively promote in the SCA.
The recipient ended up leaving the event before court due to illness, so the award was pushed off for a later event. I amended the date to reflect this, by adding "confirmamus ix ian", nicely abbreviated.
Here are a variety of images during the process (click for larger versions):
---
© 2015, Sara L. Uckelman.