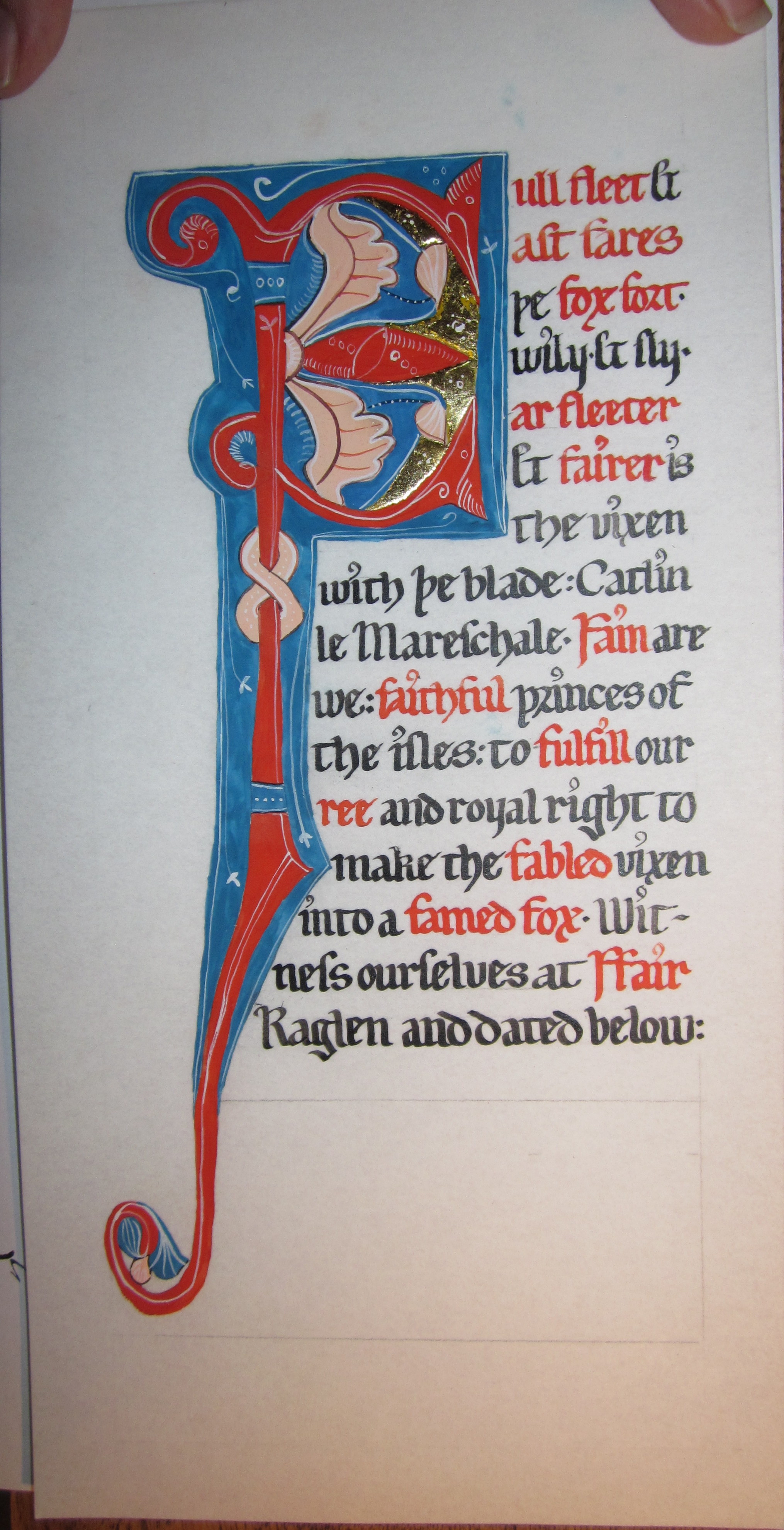 The exemplar is Codex Altenburgensis AB 13 C 4,f. 134r , and I picked it out Jul. 14. I decided the next evening I wanted to do an unusual shape, to accent the "F", and luckily had a long narrow piece of perg on hand which was just right. So on Jul. 15 I started sketching everything out, and even was able to begin painting in the initial, completing the vermillion and most of the blue lake. The evening of Jul. 16 I mixed up the pale peach and painted it in. On Jul. 22, I completed the rest of the base coats and some of the whitework. A mistake in painting the inside of the initial settled the matter as to whether I'd do gold paint or gold leaf. The night of Jul. 24, I sketched out the lines for the calligraphy, and put down the size. While waiting for the size to set, I did some of the blackwork and whitework, and even managed to put down about half of the gold before bed time. I completed the goldwork on Jul. 25; curiously, the bit where I had to put down two coats of size to make sure all the blue got covered up worked just fine, but the other bit I had problems with. I tried to put down more size and then gild again, but it didn't really work so well. So I decided not to push it. I also finished the white work.
On Ju. 29, I realized I needed to draw out more lines before I could calligraph. Grr.
I wrote the text on Jul. 14 and Jul. 29, taking full advantage of Ari Mala's help finding more words beginning with "f". It reads:
Full fleet and fast fares the fox fort wily and sly. Far fleeter and fairer is the vixen with the blade Catlin le mareschale. Fain are we, faithful princes of the isles, to fulfill our free and royal right to make fabled vixen into a true fox. Witness ourselves at Ffair Raglen and dated below:
---
© 2014, Sara L. Uckelman.