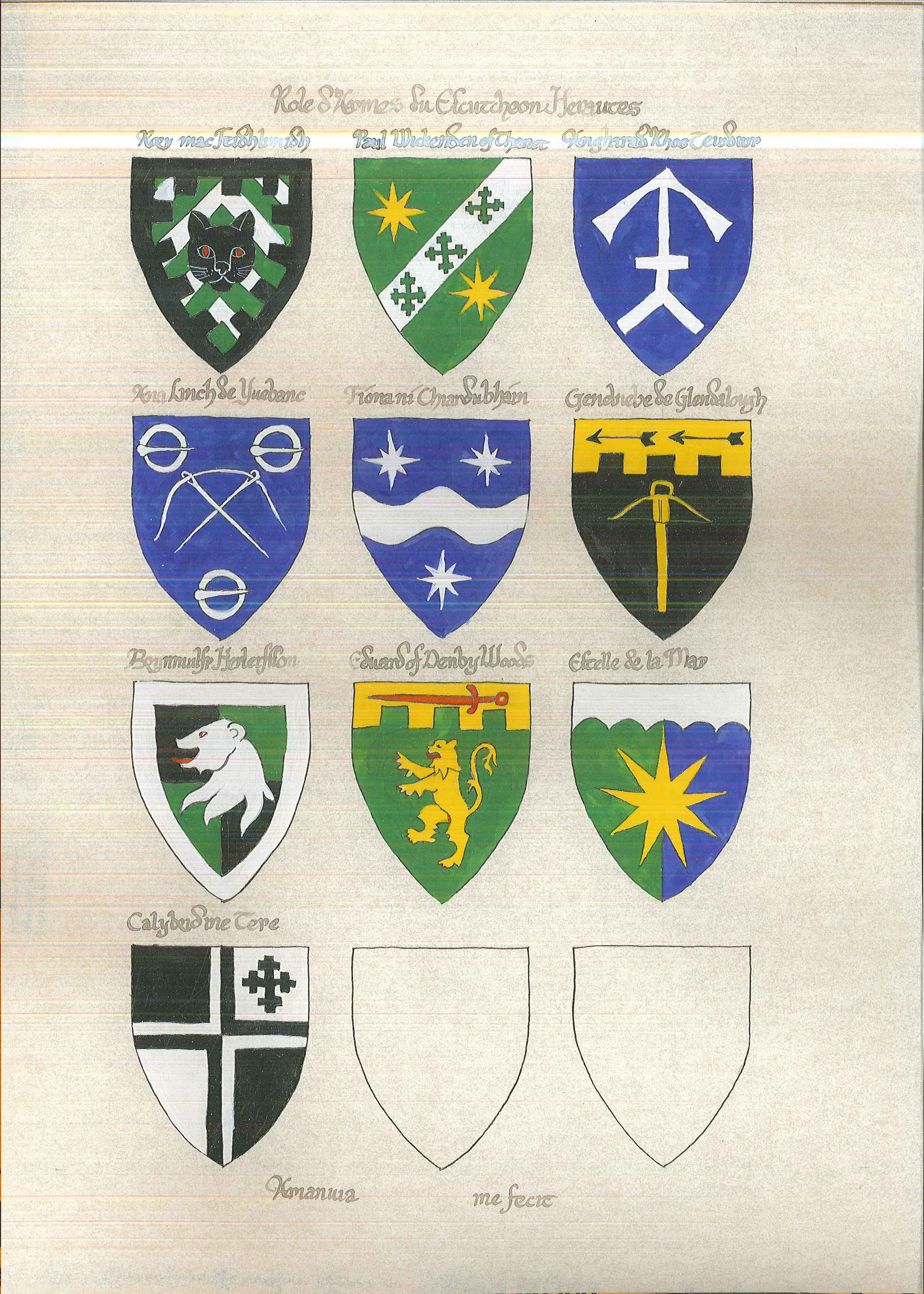 For the 2014 Nobelesse Largesse exchange, I received one of the past Escutcheon Heralds of the Midrealm as my recipient. So I decided to do something heraldic -- a roll of arms of all Escutcheons. This involved some covert research via mk-heralds, to make sure that I had all of them in my list; I was surprised that there have been only 10 so far! That makes for a nice 3 x 4 grid, with two left over. At first I was going to do 4 x 3, but then when I started sketching out the escutcheons, on Jun. 20, I realized they'd fit better in the other orientation. Over the course of the evening, I sketched all the escutcheons, inked them in, and began the interior designs. By the end of the night, I'd completely inked in those of Angharad, Ana, Brynniulfr, Estelle, and Calybrid; the remaining ones were at least partially pencilled in but I knew I need more time to do the chevronelly, the compass stars, the lion, the crossbow, etc.
I did all the calligraphy the morning of Jun. 21, while Gwen happily played behind me. I had just started the painting when I realized...I drew one of the arms wrong. And I don't know of any way to fix it. ARG.
On Jun. 22, I decided it was at least worth trying to scrape and paint over the error; I only got as far as the scraping though, and didn't have the heart to go any further. The next evening, optimistic enough that the fix could work, I pulled out the paints again, but this time stuck to azure, doing the fields for Angharad's, Ana's, and Estelle's arms. On the evening of Jun. 24, I finished inking in the corrected arms, and wetted up the green paint to do the field on Paul's, Estelle's, and Brynniulfr's. On Jun. 25, I completed drawing and inking in the remainder of the arms. Only thing left to do is paint!
Painting began in earnest the next night, which was SCA night at our place, when I finished up everything except for the white. Which means that when I picked up brush Jun. 29, I was able to finish everything!
---
© 2014, Sara L. Uckelman.