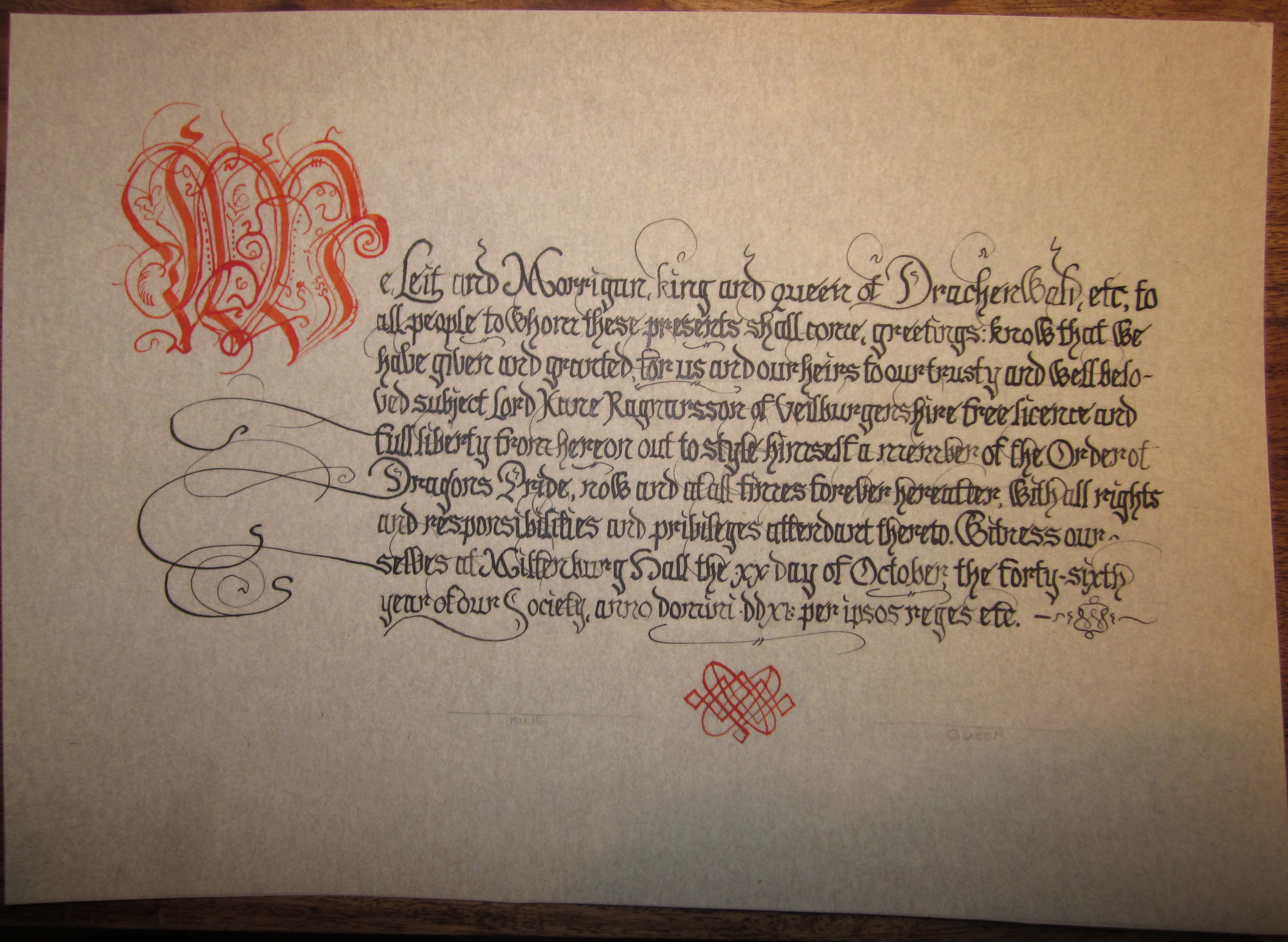 Normally I'm very good about backlog scrolls. But this one seemed ill-fated from the start. I started it, but didn't quite finish it before the event; and the event was three weeks before Gwen was born and I physically couldn't sit hunched over to finish it. And then she was born, and I was dealing with a newborn and no sleep and no desire to do C&I, and then we moved and I lost the nib that I'd done half the calligraphy with, and then we moved again and I found the nib but it seemed to fight me at every step, and as time went on it became less and less a thing of joy and more and more of an anchor. So I did what I've only rarely done before: I scrapped it and started over. I asked the recipient what his preferences were, and the response was "16th C German writ-style", which, thankfully, is something I enjoy doing very much. I found a beautiful 16th C German calligraphy exemplar book, and choose this initial for it. Once I had a letter, I could then write a text, which reads:
We, Lief and Morrigan, King and Queen of Drachenwald, &c., to all people to whom these presents shall come, greetings: know that we have given and granted, for us and our heirs, to our trusty and wellbelo- ved subject Lord Kane Ragnarson, of Vielburgenshire, free licence and full liberty from hereon out to style himself a member of the Order of Dragon's Pride, now and at all times for ever hereafter, with all rights and responsibilities and privileges attendant thereto. Witnesse our selves at Miltenburg Hall the 22, day of October, the forty-sixth year of our Society. Anno Dom 2011. Per ipsos reges, &c.
I don't remember which day during the week I did the planning and wrote the text, but I do know that my plans to work on it Friday evening were snaffled by a wrenched muscle in my right shoulder which thankfully was somewhat better on Saturday. So on the 14th I did the initial, which, alas, didn't turn out as well as I would've liked, because the vermillion ink I have always plays up. And I think I should've had a few different nibs than what I used. Unfortunately, the issues with ink have plagued the calligraphy too, so I quit for the evening after not too long. I returned to the calligraphy on the 16th; luckily, things looked better after a day or so away. I finished the calligraphy that evening, and though I'm not entirely happy with it, adding the flourishes helped (though I'm not entirely happy with the either), and I think I'm sufficiently satisfied with it. It was a bit dull, though, so I added this flourish.
---
© 2013, Sara L. Uckelman.