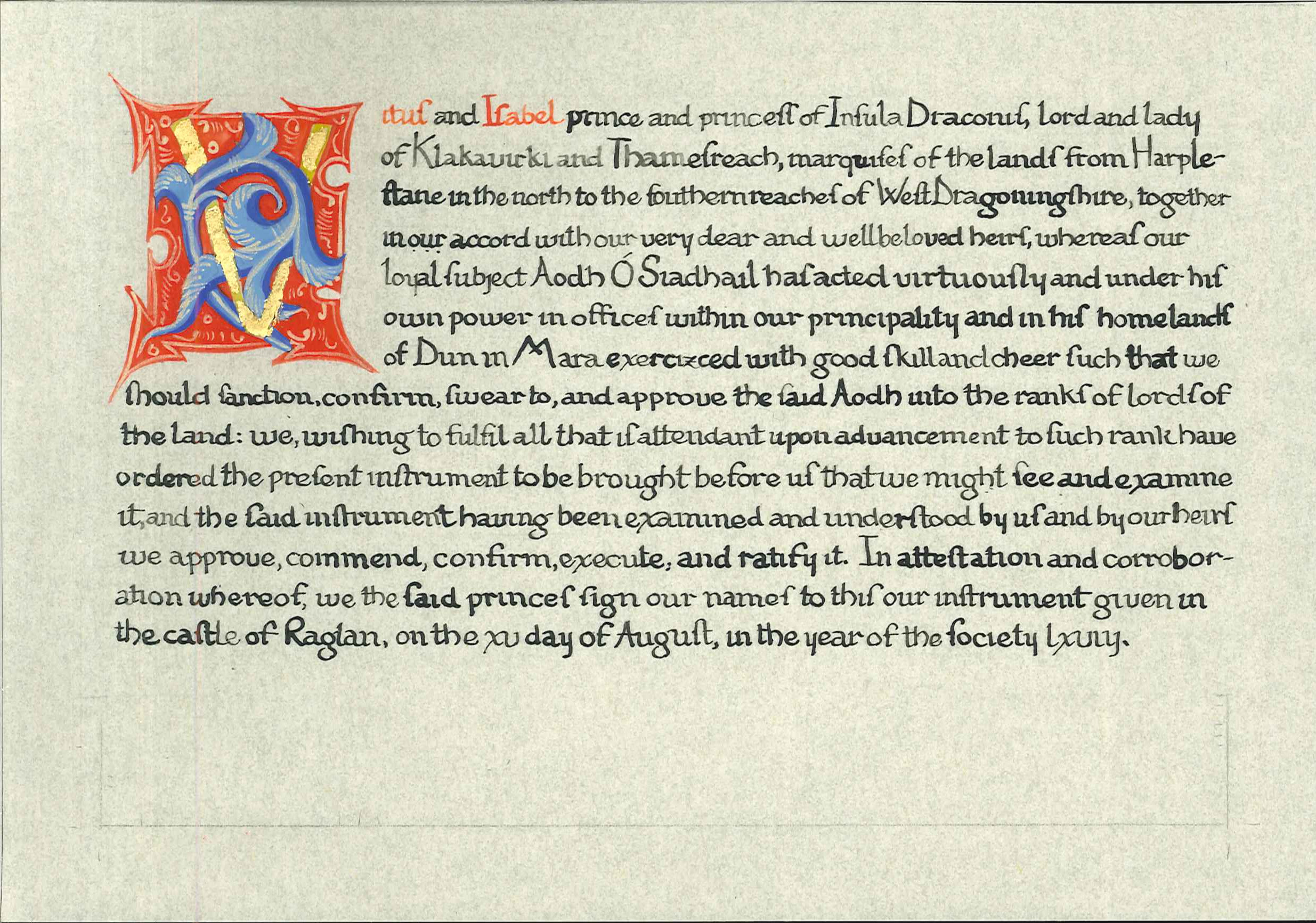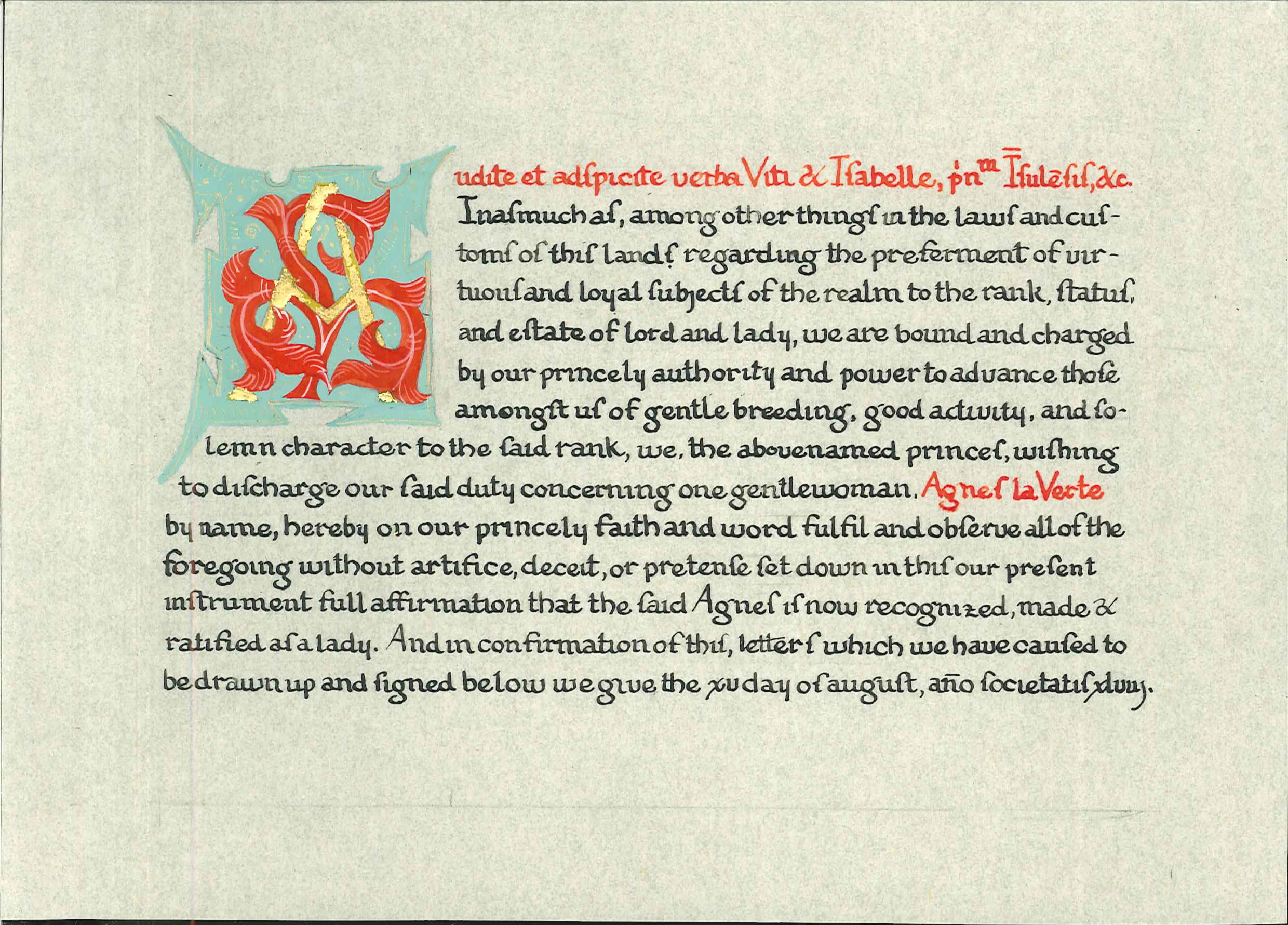 I'd been wanting to do some initials from Codex Admontensis 297 for some time now, so when I was given a matched set of AoAs for Raglan, I figured this was a good time. I picked an A from f.81v for Agnes's, and a V from f.85r for Aodh's, and drew out the layout and lining for both on Jul. 18. On Jul. 29, I sketched out the initials, and on Jul. 30, I painted the base colors of the initial and did the gilding. Matching the shade of green for Agnes's A I thought would be tricky, but I managed to guess the proportions and colors on the first try; it was roughly 3 parts white to 2 parts turquoise blue (both talens gouache) and 1/2 part yellow ochre (reeves gouache). Jul. 31 I did the white and gold work; the light blue; fixed up the gilding, a bit; wrote Aodh's text and calligraphed part of it.
The text for Aodh's reads:
Vitus and Isabel, prince and princess of Insula Draconis, lord and lady of Klakavirki and Thamesreach, marquises of the lands from Harple- stane in the north to the southern reaches of West Dragoningshire, together in accord with our very dear and beloved heirs, whereas our loyal subject Aodh Ó Siadhail has acted virtuously and under his own power in offices within our principality and in his homelands of Dun in Mara exercised with good skill and cheer such that we should sanction, confirm, swear to, and approve the admittance of the said Aodh into the ranks of lords of the land: we, wishing to fulfil all that is attendant upon advancement to such rank have ordered the present instrument to be brought before us that we might see and examine it, and the said charter having been examined and understood by us and by our heirs, we approve, commend, confirm, execute, and ratify it. In attestation and corrobor ation whereof, we the said princes sign our names to this our instrument given in the castle of Raglan, on the xv day of August, in the year of the society lxviii.
It is based on the Treaty between Spain and Portugal concluded at Tordesillas; June 7, 1494. Blodgy ink and a typo caused me to quit for the night after only a few lines. I finished the calligraph for Aodh's on Aug. 1, though I continued to have problems and am not very happy with it.
Aug. 2, I composed the text and calligraphed for Agnes's, which reads:
Audite et adspicite verba Viti et Isabelle, principium Insulenses, etc.: Inasmuch as, among other things in the laws and cus toms of this land regarding the preferment of vir- tuous and loyal subjects of the realm to the rank, status, and estate of lord and lady, we are bound and charged by our princely authority and power to advance those amongst us of gentle breeding, good activity, and so lemn character to the said rank, we, the abovenamed princes, wishing to discharge our said duty concerning one gentlewoman, Agnes La Verte by name, hereby on our princely faith and word fulfil and observe all of the foregoing, without artifice, deceit, or pretense set down in this our present instrument full affirmation that the said Agnes is now recognized, made and ratified as a lady. And in confirmation of this, letters which we have caused to be drawn up and signed below we give the xv day of august, anno societatis xlviii.
It was basically made up in its entirety.
I wasn't able to get a good scan or photo of the whole scroll that showed off the details on Agnes's initial, so here is a close-up of that:
---
© 2013, Sara L. Uckelman.