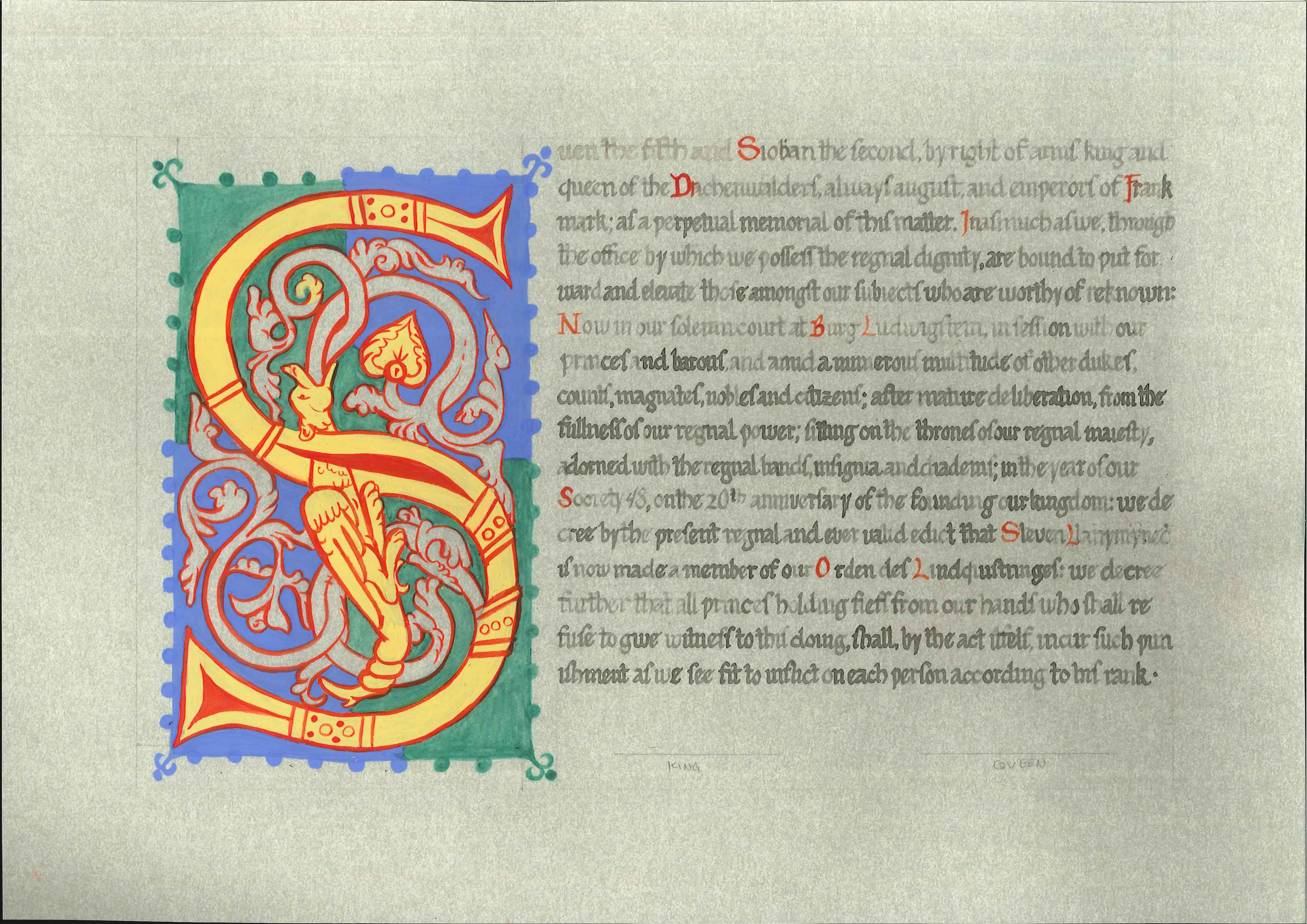 The illuminated letter, based on Codex S 318, was done by Lady Apollonia Grü.nenzwig. The text was composed Jun. 14. It is based on the Golden Bull of Emperor Charles IV from 1356 and reads:
Sven the Fifth and Siobhan the Second, by the right of arms king and queen of the Drachenwalders, always august, and Emperors of Frank mark; as a perpetual memorial of this matter. Inasmuch as we, through the office by which we possess the regnal dignity, are bound to put for ward and elevate those amongst our subjects who are worthy of renown: Now in our solemn court at Burg Ludwigstein, in session with our princes and barons, and amid a numerous multitude of other dukes, counts, magnates, nobles and citizens; after mature deliberation, from the fullness of our regnal power; sitting on the thrones of our regnal majesty, adorned with the regnal bands, insignia and diadem; in the year of our Society 48, on the 20th anniversary of the founding of our kingdom: We de cree by the present regnal and ever valid edict that Steven Llanymynech is now made a member of our Orden des Lindquistringes. We decree further that all princes holding fiefs from our hands who shall re fuse to give witness of this doing, shall, by the act itself, incur such pun ishment as we see fit to inflict on each person according to his rank.
Gwen, still sick, took an epic nap, so I was able to calligraph the scroll the same day, in one sitting, in about 2.5 hours.
---
© 2013, Sara L. Uckelman.