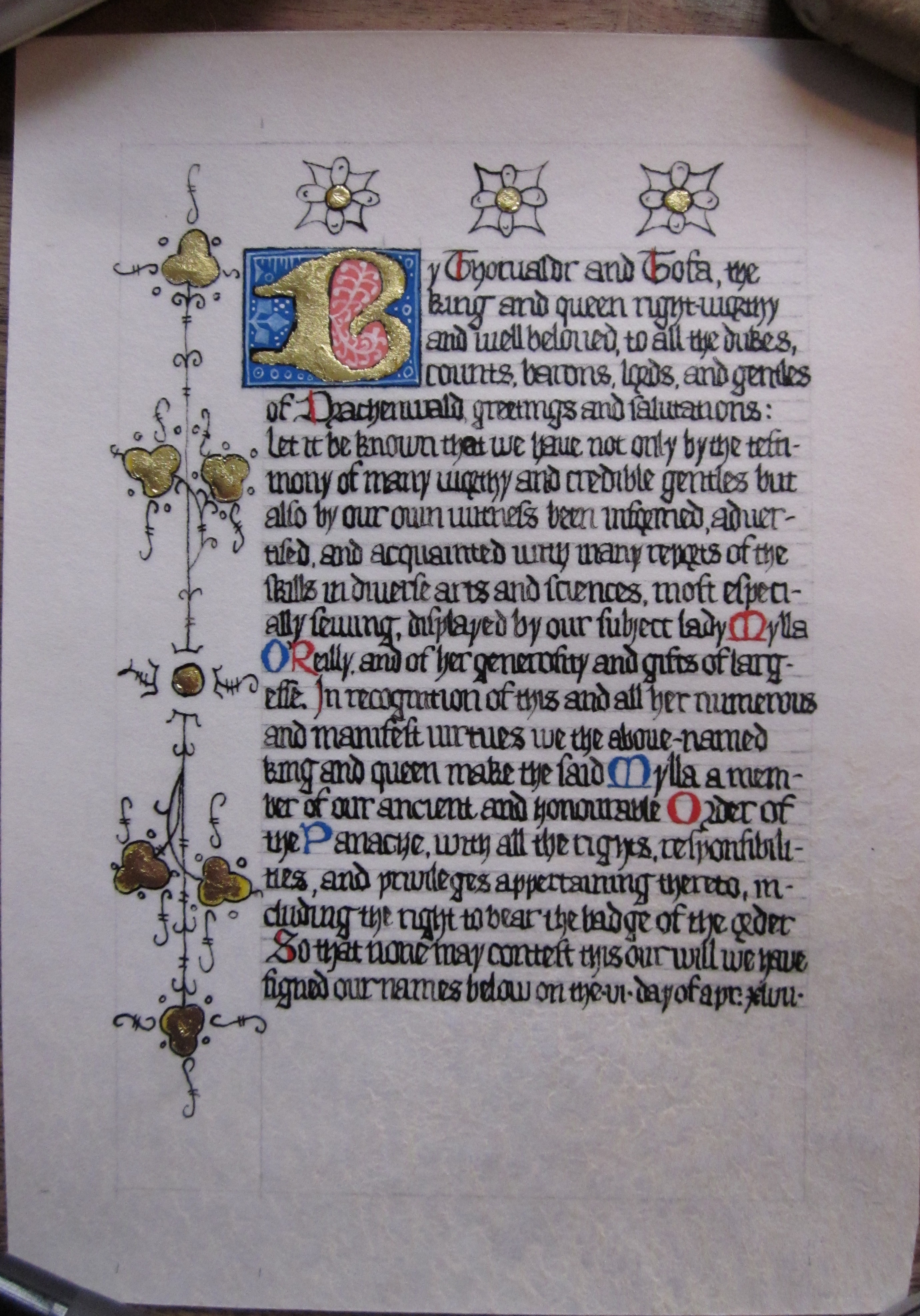 It is always such a pleasure when you get an assignment not only for a friend, but for someone you recommended! (The "suggested scribe" section on the DW award recommendation certainly helps this.) I received the assignment 10 days before the event, but functionally only 5, since I'm headed to Lisbon the Tuesday before Crown. I wanted something really special, but didn't have time to do something big, so I decided -- simple initial with gold leaf (loving my new gilding skills), and do it on sheep vellum. Yum!
Mar. 27 I picked the exemplar, Codex S 1399, fol. 133v, influenced by fol. 105v, too. and chose the text, which reads:
By Torvaldr and Tofa, the king and queen right worthy and well-beloved, to all the dukes, counts, barons, lords, and gentles of Drachenwald, greetings and salutations. Let it be known that we have not only by the testi- mony of many worthy and credible gentles but also by our own witness been informed, adver- tised, and acquainted with many reports of the skills in diverse arts and sciences, most especi- ally sewing, displayed by our subject Lady Mylla O'Reilly, and by her generosity and gifts of larg- esse. In recognition of this and all her numerous and manifest virtues we the above-named king and queen make the said Mylla a mem- ber of our ancient and honourable Order of the Panache, with all the rights, responsibili- ties, and privileges appertaining thereto, in- cluding the right to bear the badge of the order. So that none may lawfully contest this our will we have signed our names below on the vith day of apr. xlvii.
On that day I also started sketching the layout. Mar. 28 I drew in the rest of the lines and pencilled in the border, and did half the calligraphy. I completed the calligraphy Mar. 29, did the painted capitals and details in the text. Then Gwen went down for her afternoon nap, and I started in the rest: ALL the gilding; the base colors in the initial; then the decision to do the rest of the bordure with pen and ink, since I don't think I could get the gold paint to look right; and then the whitework, and about 1 minute after I finished the whitework, and about two hours after she went to sleep, I heard little noises from the bedroom. Perfect timing!
I'm very happy with this one, thrilled that in two days I was able to do justice to my exemplar and do such a neat little scroll for a friend.
For fun, compare with the Queen's Order of Courtesy I did for Saraswati, from the same MS.
---
© 2013, Sara L. Uckelman.