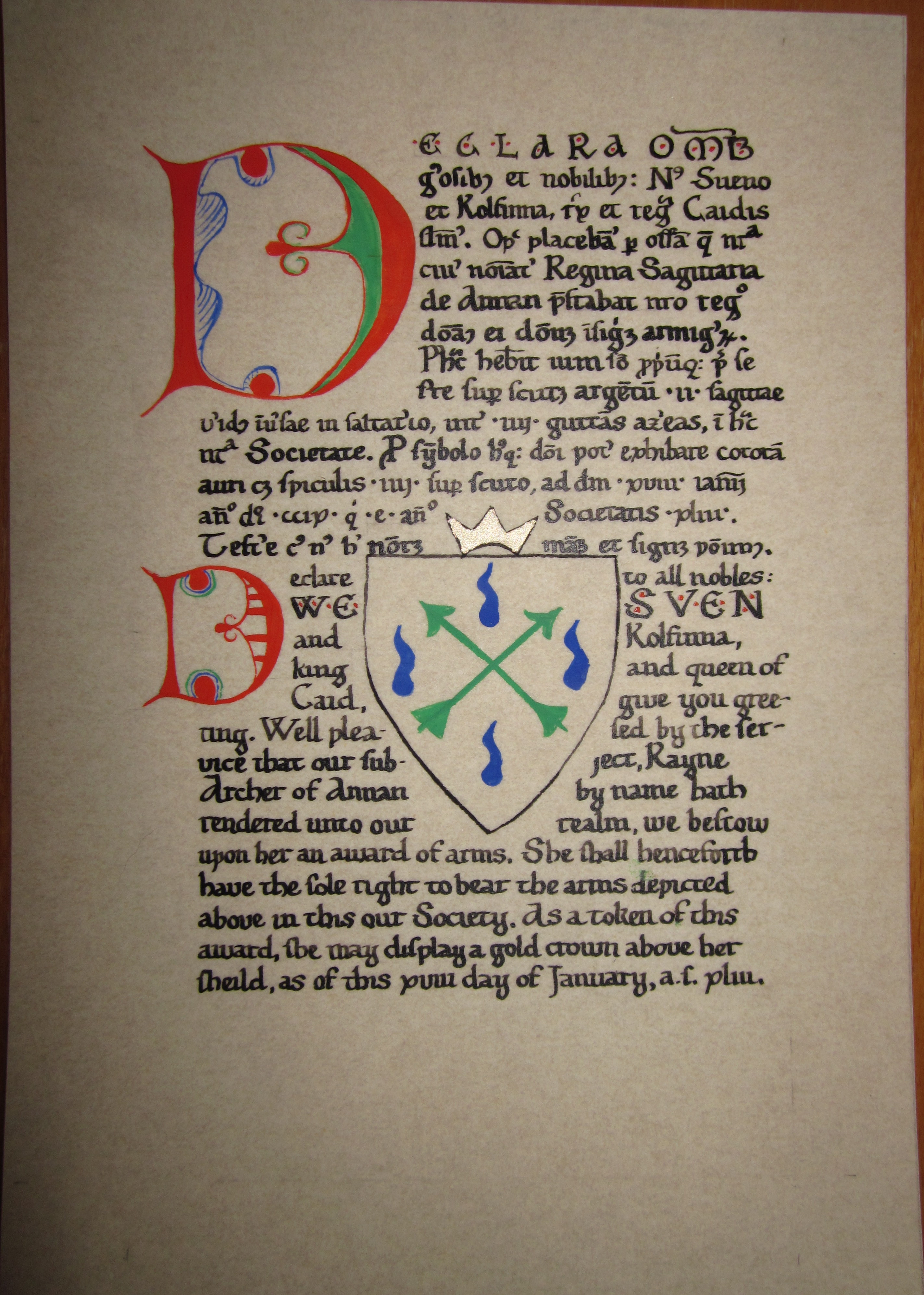 The scroll was done over the course of a week. On Mar. 5, I chose the exemplar, Codex Admontensis 58, fol. 87, and made all the changes to the Latin that I needed to personalize this for the submitter. I'm getting pretty good at Latin blazons, thanks to Introductio Ad Latinam Blasoniam, which Ursula pointed me to last week. I also sketched out the layout and the lines. On Mar. 6, I painted the initial. I knew there was no way I could recreate that pale yellow, so I decided not to try and substituted a pale green instead. I think the result still works. On Mar. 7, I started the calligraphy, getting through the end of the second sentence; unfortunately, I'd planned to curve the text around the D as it was in the exemplar, but since I didn't draw my lines that way, I forgot when I started the calligraphy, so they lines line up straight. It's time consuming having to look up the abbreviations to confirm my memory, but the result just looks so much better. Unabbreviated Latin just looks wrong. After I completed that day's calligraphy, I realized I had way more text than space, and so decided to fix this by putting the arms front and center, maybe adding another initial, and putting a gloss of the Latin text in in English. So Mar. 8, I sketched in the blank shield as a space saver, and then completed the Latin calligraphy (with impeccable line filling, if I say so myself). Since I then needed a second "D" from the same MS, I picked this one from fol. 6r, and then calligraphed the English. Mar. 10, I painted the arms, the crown, the final initial, and put dots around the capitals to match parts of the MS, and the results I'm quite happy with. I had expected this one to be rather plain, per my initial conception, but instead it's got lots of neat little bits.
The text is the standard Latin AoA scroll text for Caid, modified to correct the grammar ("Societas" is not a 1st declension feminine, people!) and reads:
Declara omnibus generosibus et nobilibus: Nos Sueno et Kolfinna, Rex et Regina Caidis salutamus. Optime placebamur per officia quae nostra civis nominatur Regina Sagittaria de Annan praestabat nostro regno donamus ei donum insignium armigerorum. Posthac habebit ium solum propriumque prae se ferre super scutum argentum, ii sagittae virides inversae in saltatario, inter iiij guttams azureas, in hac nostra Societate. Pro symbolo hujusque doni potest exhibare coronam auri cum spiculis iiij super scuto, ad diem xvii januarii Anno Domini ccix qui est xliii Anno Societatis Testare cujus Nos hic nostrum manum et signum ponimus.
I used abbreviations every single place I could, taking them primarily from Cappelli, though I paid no attention whatsoever to temporal consistency and blithely mixed centuries.
And here's the English gloss:
Declare to all nobles: We, Sven and Kolfinna, King and Queen of Caid, give you gree ting. Well pleased by the ser vice that Our subject, Rayne Archer of Annan by name, hath rendered unto Our Realm, We bestow upon her an Award of Arms. She shall henceforth have the sole right to bear the arms depicted above in this Our Society. As token of this award, she may display a gold crown above her shield, as of this xviii day of January, a.s. xlii.
---
© 2013, Sara L. Uckelman.