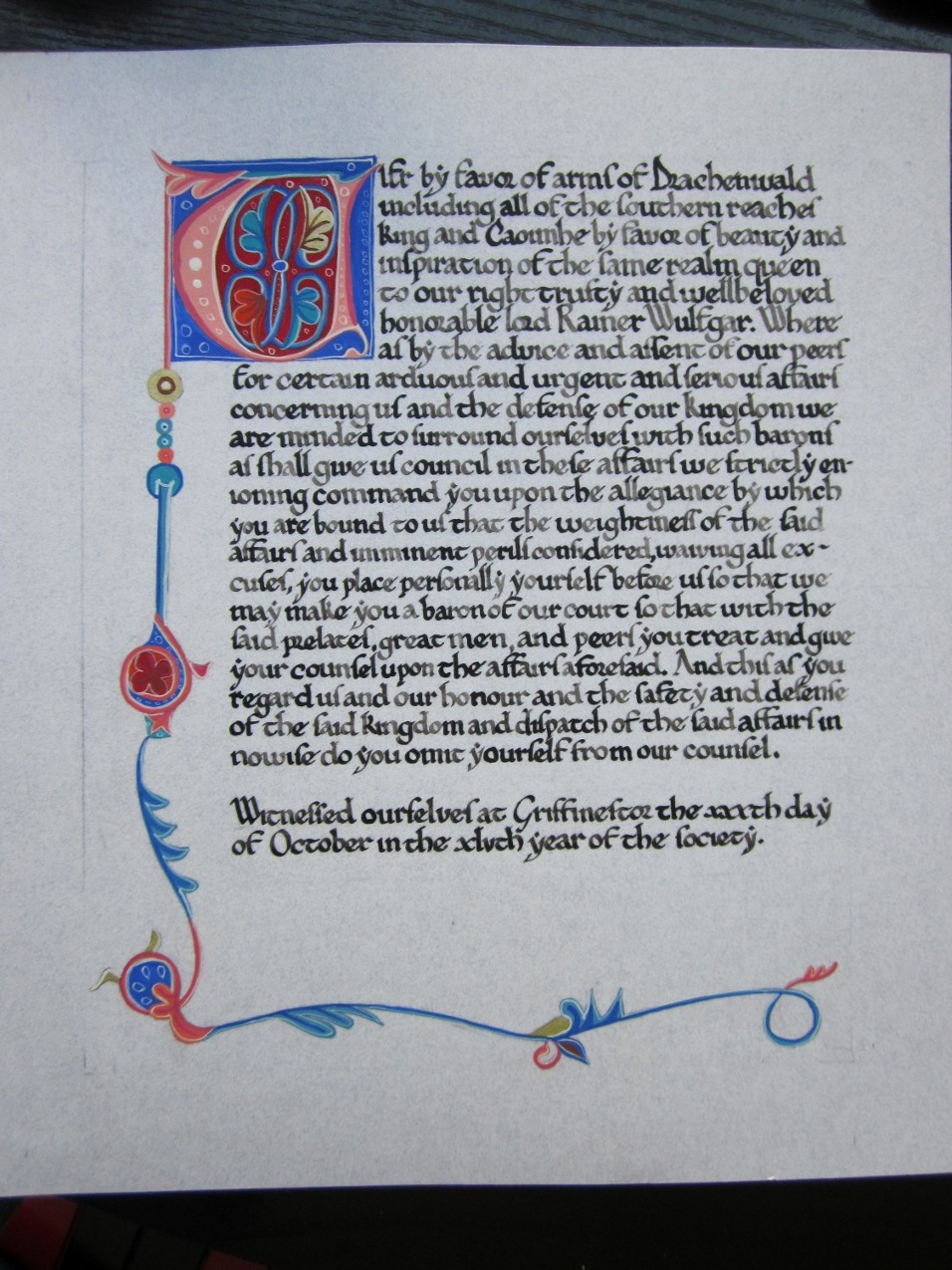 The calligraphy was done Oct. 1, the design drawn and the base colors painted Oct. 2, and the shading and whitework done Oct. 3.
The text based on the summons to parliament used by Queen Elizabeth II (though I believe it's essentially unchanged from earlier summonses); such a summons would make someone a baron if they weren't already one. It reads:
Ulfr by favor of arms of Drachenwald including all of the southern reaches King and Caoimhe by favor of beauty and inspiration of the same realm Queen to our right trusty and well beloved honorable lord Rainer Wulfgar. Whereas by the advice and assent of our peers for certain arduous and urgent and serious affairs concerning Us and the defence of our kingdom we are minded to surround ourselves with such barons as shall give us council in these affairs we strictly enjoining command you upon the allegiance by which you are bound to Us that the weightness of the said affairs and imminent perils considered (waiving all excuses) you place personally yourself before us so that we may make you a baron of our court so that with the said prelates, great men and peers you treat and give Myour counsel upon the affairs aforesaid. And this as you regard Us and Our honour and the safety and defence of the said Kingdom and dispatch of the said affairs in nowise do you omit yourself from our counsel.

Witness Ourselves at Griffinstor the 30th day of October in the 45th year of the society.
The design is based on Hs. II 119 f. 238v, from the 13th century.
I took photos as I went:
| | | | | | | |
| --- | --- | --- | --- | --- | --- | --- |
| | | | | | | |
| Calligraphy 1 | Calligraphy 2 | Border | Base colors | Pre-whitework | Finished | Close-up |
---
© 2010, Sara L. Uckelman.