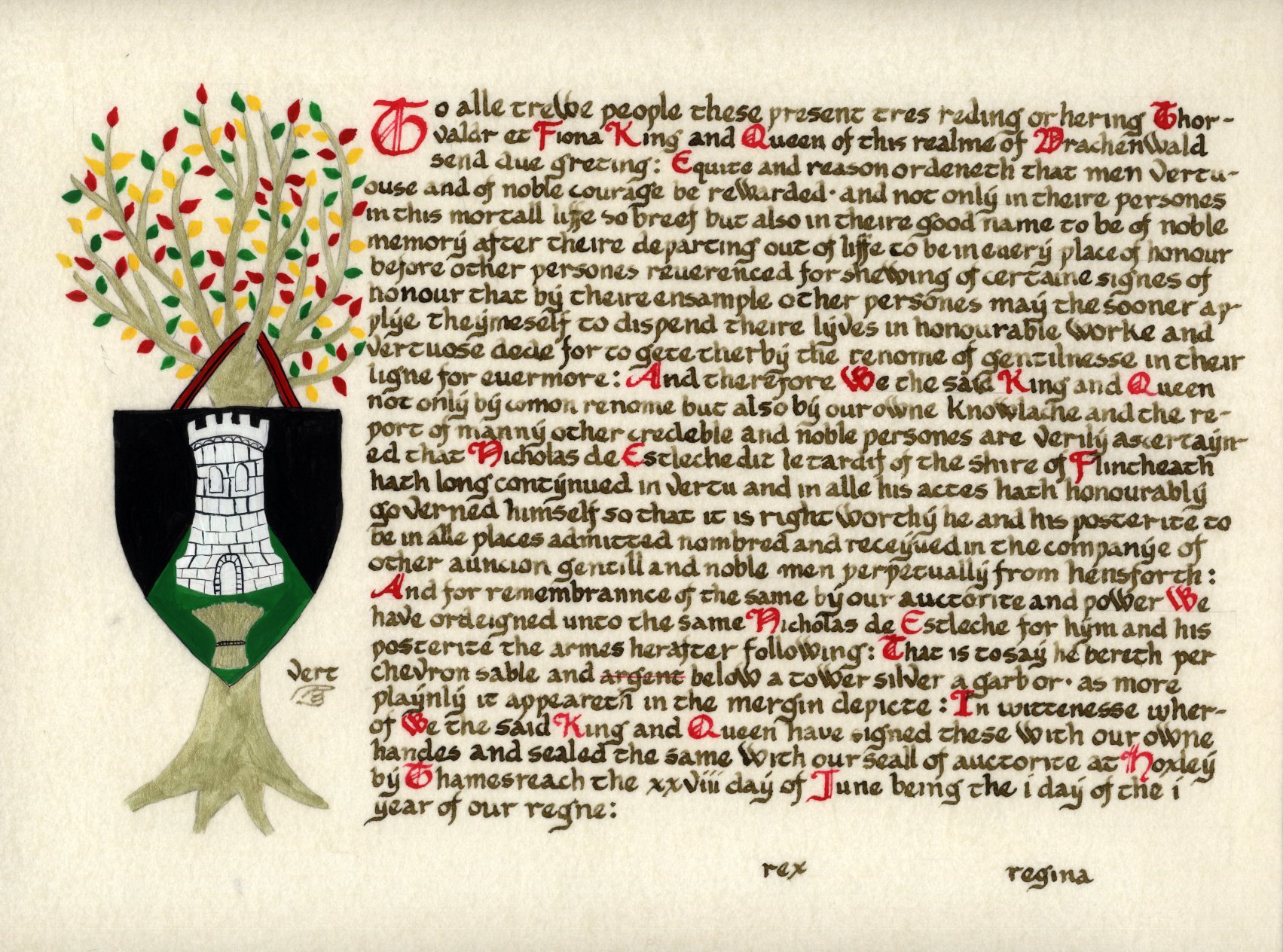 The text reads: To alle trewe people these present tres reding or hering Thorvaldr and Fiona King and Queen of this realme of Drachenwald send due greting. Equite and reason ordeyneth that men vertuouse and of noble courage be rewarded, and not only in theire persones in this mortall liffe so breef but also in theire good name to be of noble memory after theire departing out of liffe to be in euery place of honour before other persones reuerenced for shewing of certaine signes of honour that by theire ensample other persones may the sonner applye theyme theymeself to dispend theire lyves in honourable worke and vertuous dede for to gete therby the renome of gentilnesse in theire ligne for euermore. And therfore We the said King and Queen not only by comon Renome but also by our owne knowlache and the report of manny other credeble and noble persones are vervily ascertayned that Nicholas de Estleche dit le Tardif of the shire of Flintheath hath long contynued in vertu and in alle his Actes hath weel honourably gouerned hymself so that it is right worthy he and his posterite to be in alle places admitted nombred and receyued in the company of other auncion gentill and noble men perpetually frome hensforth. And for remembrannce of the same our auctorite and power We the said King and Queen have ordeigned unto and for the same Nicholas de Estleche for hym and his posterite the armys herafter folowying. That is to say he bereth per chevron sable and vrgent below a tower silver a garb or, as more playnly it appeareth in the mergen depicte. In wittenesse wherof We the said King and Queen haue signed these with our owne handes and sealed the same with our seall of auctorite at Hoxley by Thamesreach the xxviii Day of June being the i day of the i yere of Our Regne. It is based on the 1482 grant of arms to thomas Northland, number 13 at http://verysleepy.itgo.com/grants.htm.
The tree is based loosely on one in the London Guildhall Library MS 1756, dating from 1510(?). I say loosely because the picture I took zoomed in on the arms hanging from the branch, and omited most of the tree, so I don't know how the crown of the tree actually worked.
It was very frustrating to discover after having done all of the calligraphy, all of the tree, and half of the shield that I had miswritten the blazon. Since I've never tried scraping ink of perg and rewriting over it (and I'm very leery of doing so), I figured this correction was the path of least resistance, and hence the one where I was most likely to come up with a correction that itself didn't involve further grief and frustration.
Paints: Talens gouache, gold, green, yellow, carmine, black intenso, white. Done Oct. 16 and 18, 2008.
---
© 2008, Sara L. Uckelman.