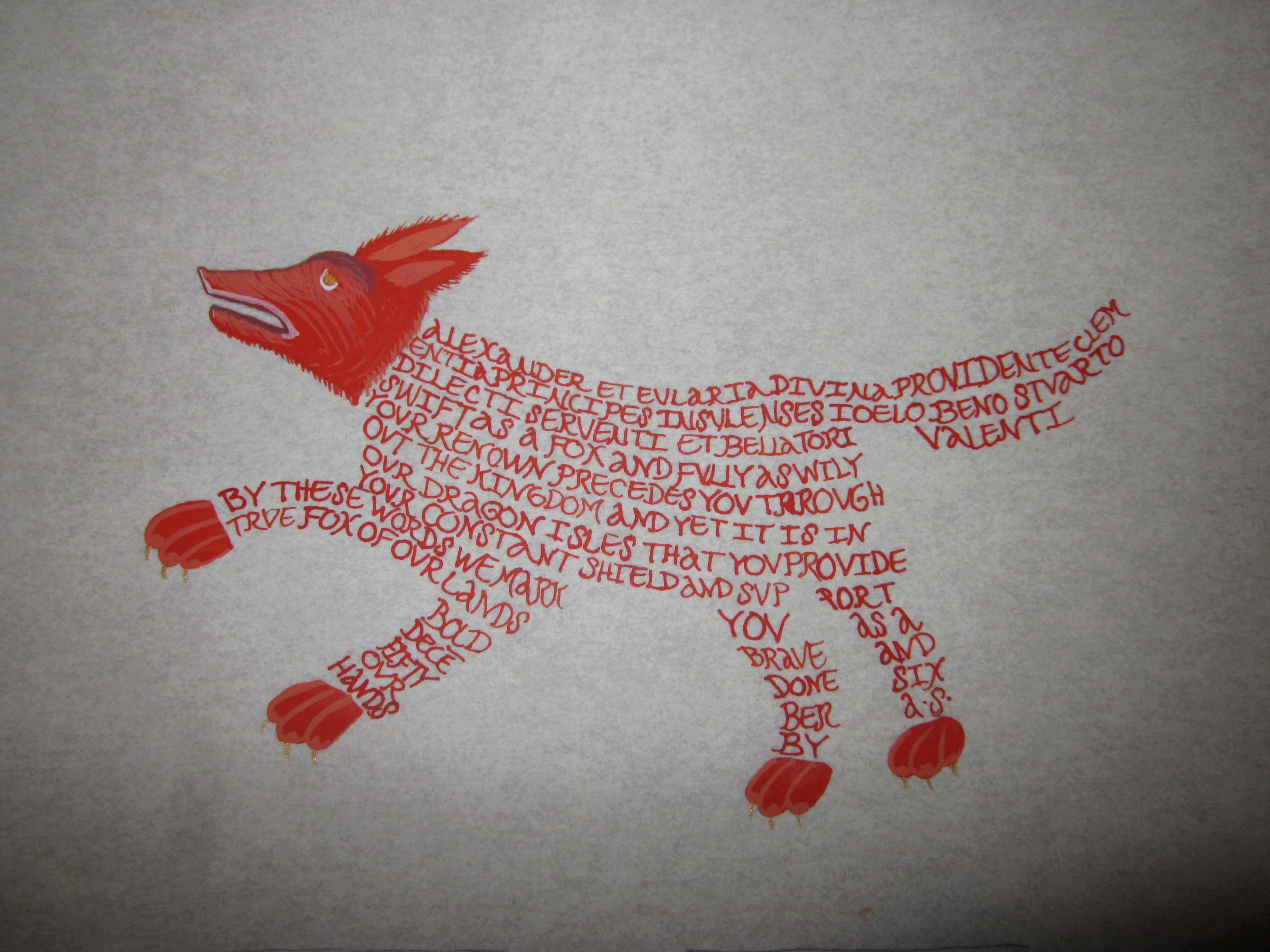 The exemplar is BL MS Harley 647 f. 13. As soon as I received the assignment, I knew I wanted to do something in this style, so I set about looking for words in the same of dogs. Because what makes a fox a fox? The fact that it is colored red. I did up a complete version on Nov. 27, and at the end did what I've rarely done: Decided there were enough mistakes that I was going to scrap it and completely start over. I would have had to scrape too many words, and I realized I'd missed one altogether, and the spacing on one of the legs wasn't quite right. I could do better. The recipient deserved better. And the first version took about an hour, so I knew the second one could be done better at least as quickly. I calligraphed the second version Nov. 29, and did the painting Nov. 30. This version was much better!
The text reads:
Alexander et Eularia divina providente clementia principes Insulenses Ioelo Beno Stuarto dilecti serventi et bellatori valenti. Swift as a fox and fully as wily your renown precedes you throughout the kingdom and yet it is in our dragon isles that you provide your constant shield and support. By these words we mark you as a true fox of our lands, as brave and as bold. Done six December A.S. fifty by our hands.
The Latin opening translates: Alexandre and Eularia by divine providing clemency insular princes to Joel Ben Stuart beloved servant and valient warrior. The "divina providente clementia [title]" bit comes from a charter of Rudolf III of Burgundy dating to 1014.
---
© 2015, Sara L. Uckelman.