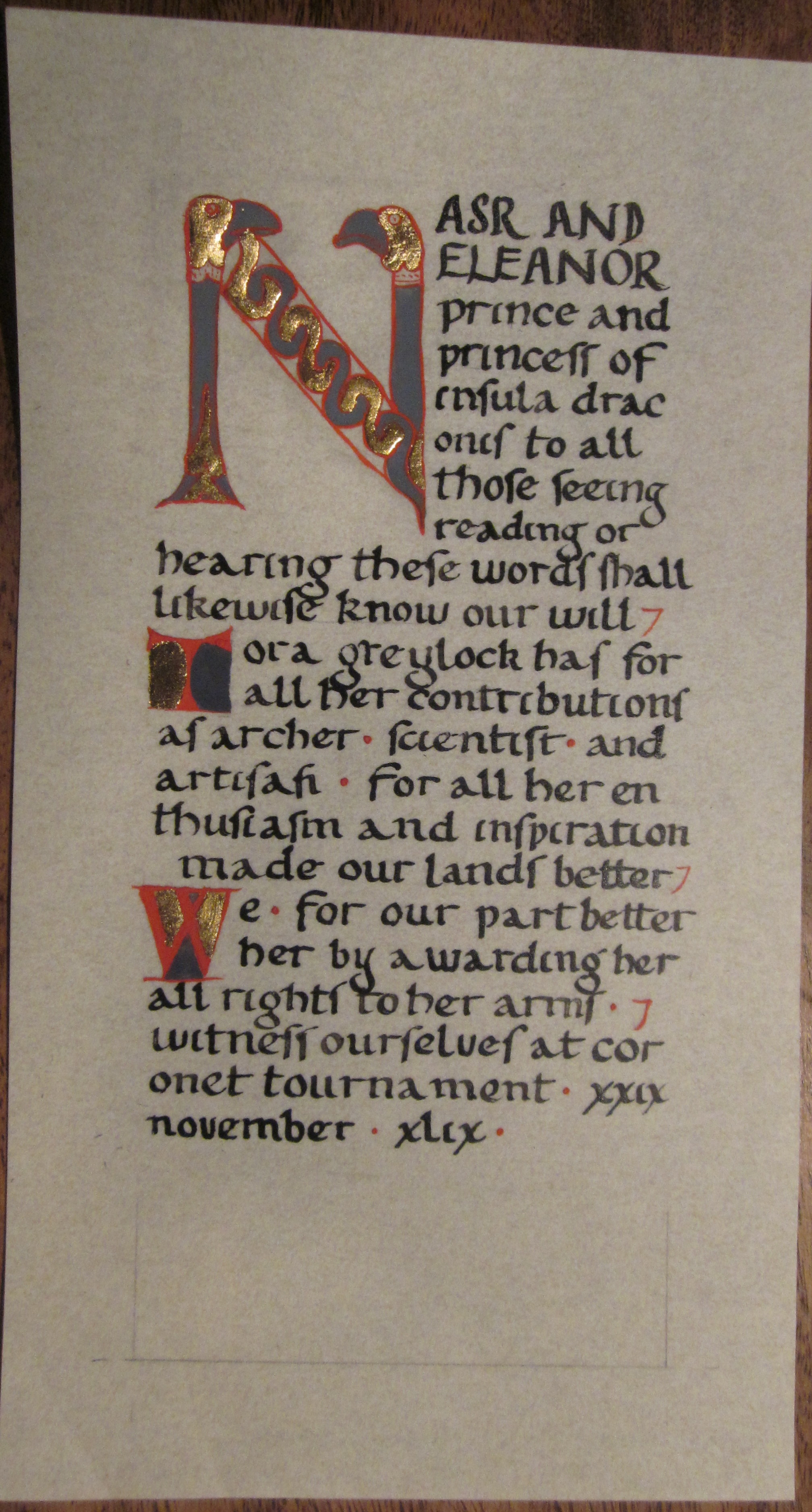 I chose the initial, Codex Gottwicensis 30 (2), f. 206v, on Nov. 1. The design was influenced by other folios in the same codex, specifically f. 204v, f. 235v, and f. 85v. I started sketching things out the same day, and finished the lining on the next.
I waited awhile uncertain what color to do the silver/grey bits in -- silver leaf? (don't have any.) cerulean? (don't have any; and what I found on line just didn't look right). ultramarine? (it would work as a color combo with gold and vermillion, but wouldn't really match the exemplar). And then Nov. 4 I found this grey/blue that I'd mixed for another scroll, and decided it was a good choice, and painted in the "N". After finding my gold size (hurrah!) on Nov. 8, I put down the first layer on Nov. 9. The next few days were busy with birthday celebrations for one important now-3-year-old, but on Nov. 12 I got out the gold. Shiny! Even more shinier Nov. 13, after I cleaned up the gilding and painted in the red. Nov. 20 I did the calligraphy. I think I picked the wrong nib. There was not enoug white space.
The text was composed while writing, and reads:
Nasr and Eleanor prince and princess of insula draconis to all those seeing, reading, or hearing these words shall likewise know our will. Thora greylock has, for all her contributions as archer, scientist, and artisan, for all her enthusiasm and inspiration, made our lands better. We for our part better her by awarding her all rights to her arms. Witness ourselves at coronet tournament xxix november xlix.
Nov. 21 was finish-up day: I did the red punctuation and the two smaller initials.
---
© 2014, Sara L. Uckelman.