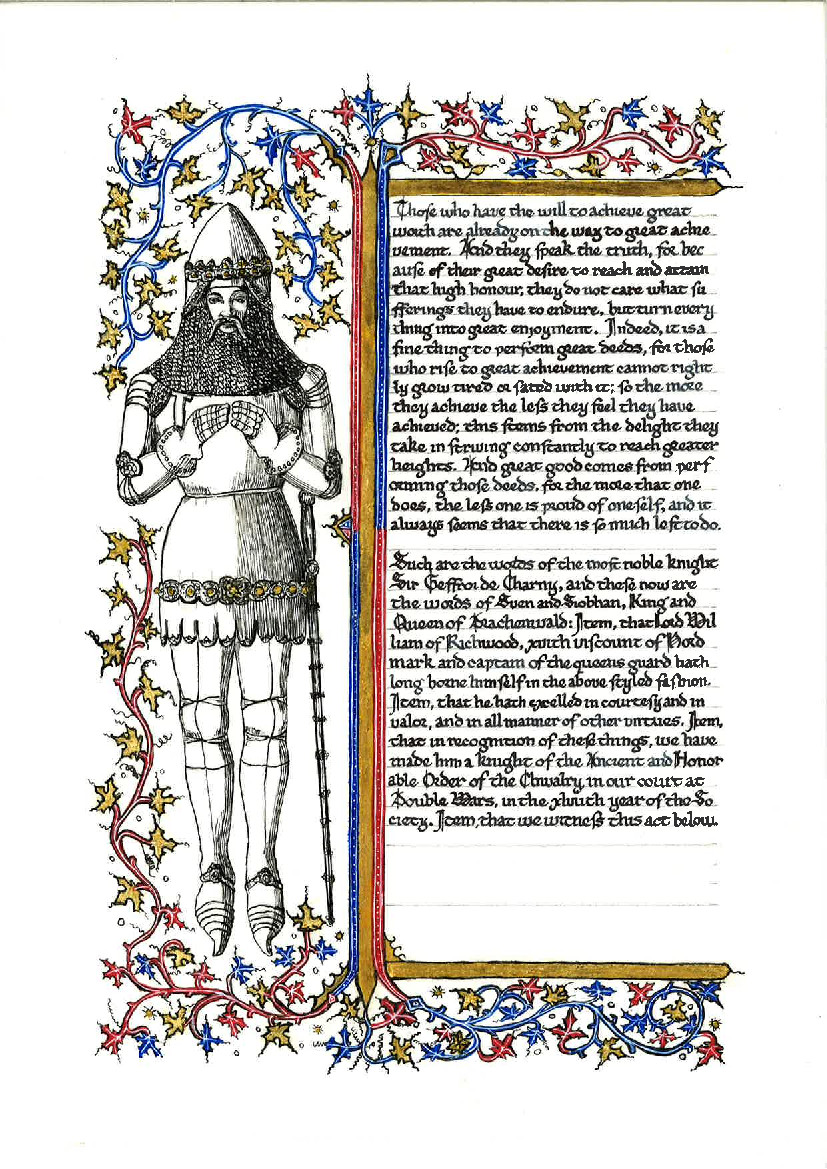 The illumination was done by Agatha of Norwich. The text reads:
Those who have the will to achieve great worth are already on the way to great achievement. And they speak the truth, for because of their great desire to reach and attain that high honor, they do not care what sufferings they have to endure, but turn everything into great enjoyment. Indeed, it is a fine thing to perform great deeds, for those who rise to great achievement cannot rightly grow tired or sated with it; so the more they achieve, the less they feel they have achieved; this stems from the delight they take in striving constantly to reach greater heights. And great good comes from performing these deeds, for the more that one does, the less is one proud of oneself, and it always seems that there is so much left to do.

Such are the words of the most noble knight Sir Geoffroi de Charny, and these now are the words of Sven and Siobhan, King and Queen of Drachenwald: Item, that Lord William of Richwood, XVIth viscount of Nordmark and captain of the Queen's guard, hath long borne himself in the above styled fashion. Item, that he has excelled in courtesy and in valour, and in all manner of other virtues. Item, that in recognition of these things, we have made him a Knight of the Ancient and Honorable Order of the Chivalry, in our court at Double Wars in the 46th year of the Society. Item, that we witness this act below.
The text is taken from a translation of The Book of Chivalry by Geoffroi de Charny, mid 14th C, found at http://smuhlberger.blogspot.com/2006/05/geoffroi-de-charny-speaks_10.htm.
---
© 2012, Sara L. Uckelman.